Product Sections













Other World Heritage Store Departments


:: Back To The Museum ::

Main Pages



Featured Products

Guan-yin Magic Mirror Pendant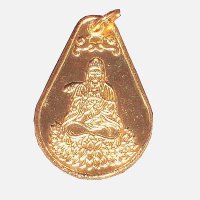 £7.99
Gold-plated Guan-yin pendant with gold mirrored reverse. Guan-yin also known as Guanshi-yin is a bodhisattva - an enlightened being that is associated with compassion. The pendant works as a magic mirror and reflects the image of Guan-yin from the mirrored side.

Supplied in a box but without chain or cord. The size of the pendant is approximately 32x21mm
find out more

Zodiac Horoscope Terracotta Army Officer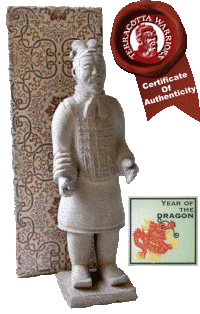 £7.00
This terracotta warrior was made by Chinese technicians and craftsmen and is an accurate replica of an original found at the Terracotta Warrior site in China.
These warriors come with a Chinese Zodiac sign and a personalised booklet describing the relevant sign of Zodiac making it a perfect gift for someone special. Make your choice of the Zodiac sign using the drop-down. The choice would not affect the appearance of the warrior figurine. The figurine is finished in sandy terracotta.
find out more

Terracotta Army Postcard - Style 1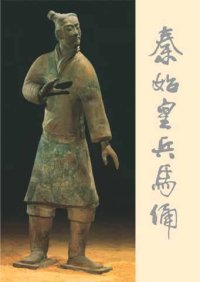 £0.40
Unarmed Warrior. One of the Terracotta Warriors of the First Emperor of China.
find out more

Best Sellers

A Pair Of Zodiac Horoscope Terracotta Warriors - General + Officer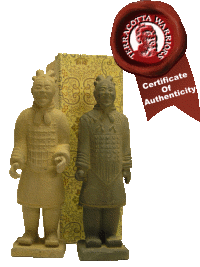 £11.99
A wonderful opportunity to order two Terracotta Warriors at a discount price. You save £1.90. These very fine terracotta warriors were made by Chinese technicians and craftsmen and measure approximately 22cm (8.5"). They are acurate replicas of the originals found in the famous site at Xian in China.

Both figurines come with a Chinese zodiac sign and a personalised booklet describing the relevant sign of zodiac making it a perfect gift for someone special. Make your choice of the Zodiac sign using both drop-downs. You need to make two choices as you are ordering a pair of warriors. The choice would not affect the appearance of the warrior figurines. The figurines are made of sand color terracotta.
find out more

A Pair Of Terracotta Kneeling Warriors - Large + Small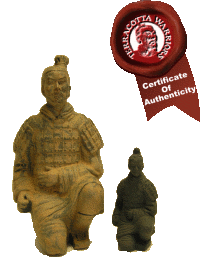 £13.00
A wonderful opportunity to order two Terracotta Warriors at a discount price. You save £1.90. The set incudes one large and one small kneeling Crossbow Warrior figurine. The figurines are made of terracotta and are available in two types of finish: traditional charcoal and antiqued. The small figurine is 105mm (4"), the large one - 200mm (8") tall. Make your choice using drop-down boxes.
find out more

Golden Terracotta Warrior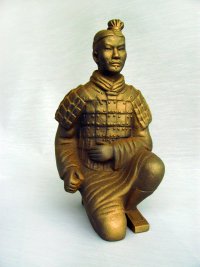 £13.00
Your chance to own a wonderful terracotta Golden Warrior made in fired terracotta clay from the vicinity of the Terracotta Warriors discovery site at Xian, in China, finished by hand in antique gold.

The wonderful figures are available in a limited edition. Each warrior is of exceptional quality, has a numbered certificate and is limited to and edition of 2008.

The warrior is an exact scaled replica of a crossbowman of the First Emperor of China's famous terracotta warriors. The terracotta warriors were the Emperor's ultimate weapon. Each warrior was supremely fit and expert in all manner of physical skills and martial arts. By today's standards they would be regarded as ultimate athletes.

These gold terracotta warriors are official souvenirs of the Terracotta Warriors Museum, Dorchester, UK.

This figurine is 8" (20cm) high and comes with an authenticity certificate in a nice presentation box!
find out more

About Us
At World Heritage Ltd we are completely dedicated to your total satisfaction. If you have any suggestions or comments please email us using the link on the menu or use these contact details:
World Heritage Ltd, Heritage House 25 High West Street Dorchester Dorset DT1 1UW United Kingdom
Phone: +44 (0) 1305 269741; Fax: +44 (0) 1305 268885
Email: info (at) world-heritage (dot) org (dot) uk
VAT Registration Number 786 4024 12 GB

Making A Purchase
You will find our product sections on the left. Please browse the sections and add any items that you wish to buy into the shopping cart using the red button "Add to cart".
After each product addition you will be redirected to your shopping cart and then automatically back to the product section.
Your controls are at the logo near the top of the page. Clicking "View Cart" will display contents of your cart.
If you wish to remove an item from your cart, tick the relevant box near the product name and click the grey button "update".
Once you are happy with the contents of your cart, click "Checkout". You will be asked to enter your address, credit card information and to accept our "Terms and Conditions".

We accept Visa, Mastercard, Switch and Delta cards. We do not charge for any item until it is ready to ship. If you are shopping from outside Britain, place your order and your credit card company will convert the transaction to your local currency. Your transaction is absolutely safe as we use 128bit encription.

When confirmation of order is received, this is to indicate that we have received your order. It does not indicate that a contract exists between us. We will indicate acceptance of your order, and hence a contract between us, when we send you an invoice. We have included this term to protect us in the case that a mistake has been made in pricing, we have inadvertently under-priced goods, or we are no longer able to supply a particular product for some reason. In the case of a change of price, we will always contact you first to ensure that the price is acceptable.
Shipping And Handling
World Heritage does ship items worldwide . We do not charge a handling fee on any orders. We charge the standard postage prices set by ParcelForce or Royal Mail. On checkout look at the "Shipping and Handling" section and use the drop-down menu to see what postage options are available for you.

ParcelForce Premier or Express are guaranteed delivery options. They cost £5.95 and £6.95 respectively. We do our best to make sure all British orders are received within one week from the day or ordering. In most cases it is just 2-3 working days. International orders may take up to 2 weeks to deliver or even up to 8 weeks if you choose the budget surface mail.

Weight limits on international orders - 10kg, on British orders - 30kg.
Delivery Schedule
Allow up to 7 working days for 1st class delivery and 10 working days for 2nd class. Orders outside Britain should allow two to three weeks for shipping. In extreme cases it may be necessary to allow up to 28 days for both national and international delivery.

Tax Charges
For orders made from the UK or the European Union, 20% of VAT is included within all prices. All other orders are VAT free and our system normally removes VAT once you have started your checkout process and selected your country of destination. In some cases (due to different browser settings) you should click the exempt button at the checkout in order to reduce VAT to zero.
Credit Card Security
When the order is placed at our website, credit card numbers are encrypted using 128 bit encryption. They are only decrypted after they reach our computer. They are not held in clear text on any web site.
Reaching Us
If you need to reach us, please email us using the link on the store page, alternatively, you can call on +44 (0) 1305 269741 or fax us on +44 (0) 1305 268885 or write to us at World Heritage Ltd, High East Street, Dorchester, Dorset, DT1 1JU, United Kingdom
Privacy Policy
World Heritage Ltd does not disclose buyers' information to third parties other than when order details are processed as part of the order fulfilment. In this case, the third party will not disclose any of the details to any other third party.

Cookies are used on this shopping site to keep track of the contents of your shopping cart, to store delivery addresses if the address book is used and to store your details if you select the 'Remember Me' Option. They are also used after you have logged on as part of that process. You can turn off cookies within your browser by going to 'Tools | Internet Options | Privacy' and selecting to block cookies. If you turn off cookies, you will be unable to place orders or benefit from the other features that use cookies.Data collected by this site is used to:
a. Take and fulfill customer orders
b. Administer and enhance the site and service
c. Only disclose information to third-parties for goods delivery purposes

You will receive a confirmation that we have received your order. It does not indicate that a contract exists between us. We will indicate acceptance of your order, and hence a contract between us, when we send you an invoice. We have included this term to protect us in the case that a mistake has been made in pricing, we have inadvertently under-priced goods, or we are no longer able to supply a particular product for some reason. In the case of a change of price, we will always contact you first to ensure that the price is acceptable.
Returns Policy
In the unlikely event that any of our products are received damaged please return them within 14 days and we will gladly refund or replace the item. We regret we are unable to offer any returns on earrings or other piercing jewellery due to hygiene reasons unless the product is faulty. This does not affect your statutory rights.



Right to Cancel

You have the right to cancel your order up to seven working days beginning with the day after the day on which the goods are received.
Notice of cancellation must be received by the World Heritage Ltd in writing by mail, fax or email and you must bear the cost of returning the goods.

Your rights to return goods are protected under the EU Distance Selling Directive which can be found at http://www.hmso.gov.uk/si/si2000/20002334.htm
The Terracotta Warriors Museum Shop is a World Heritage giftshop. You may wish to also visit the Tutankhamun Exhibition Shop.